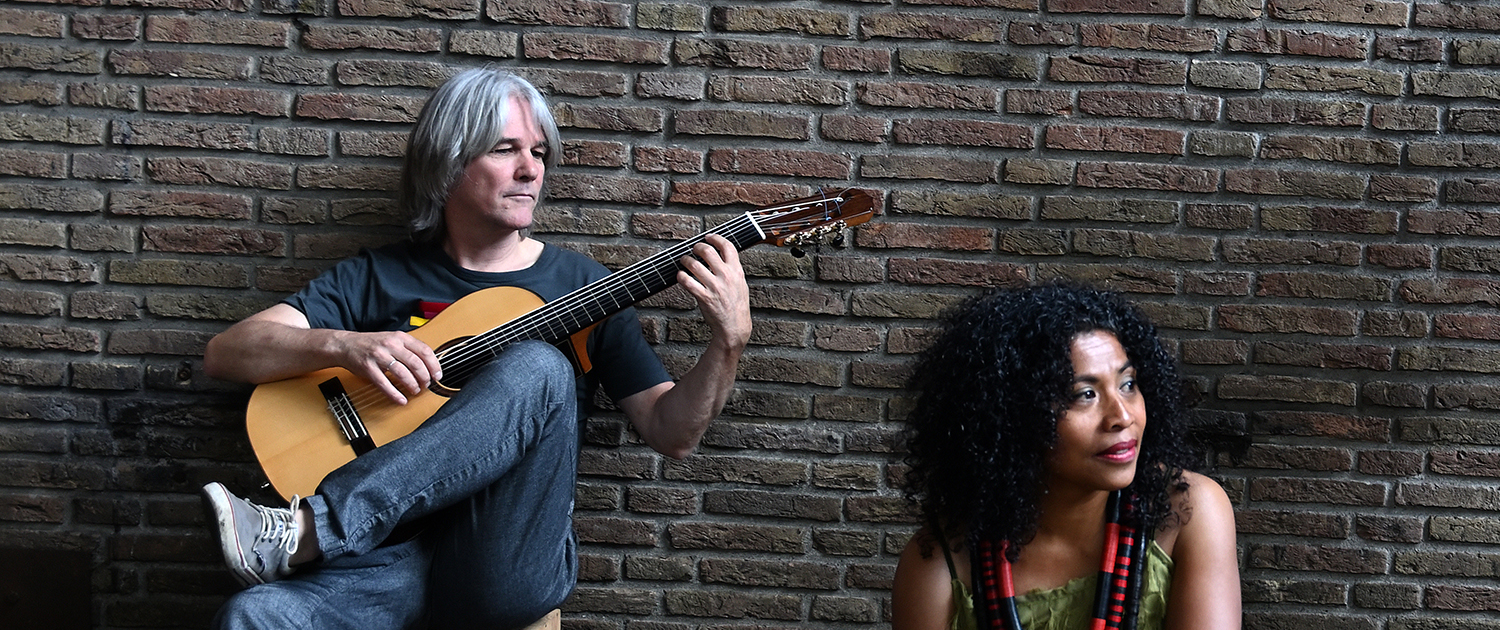 BOI AKIH
the voice is a beautiful instrument and the guitar has a beautiful voice
new album Storyteller available now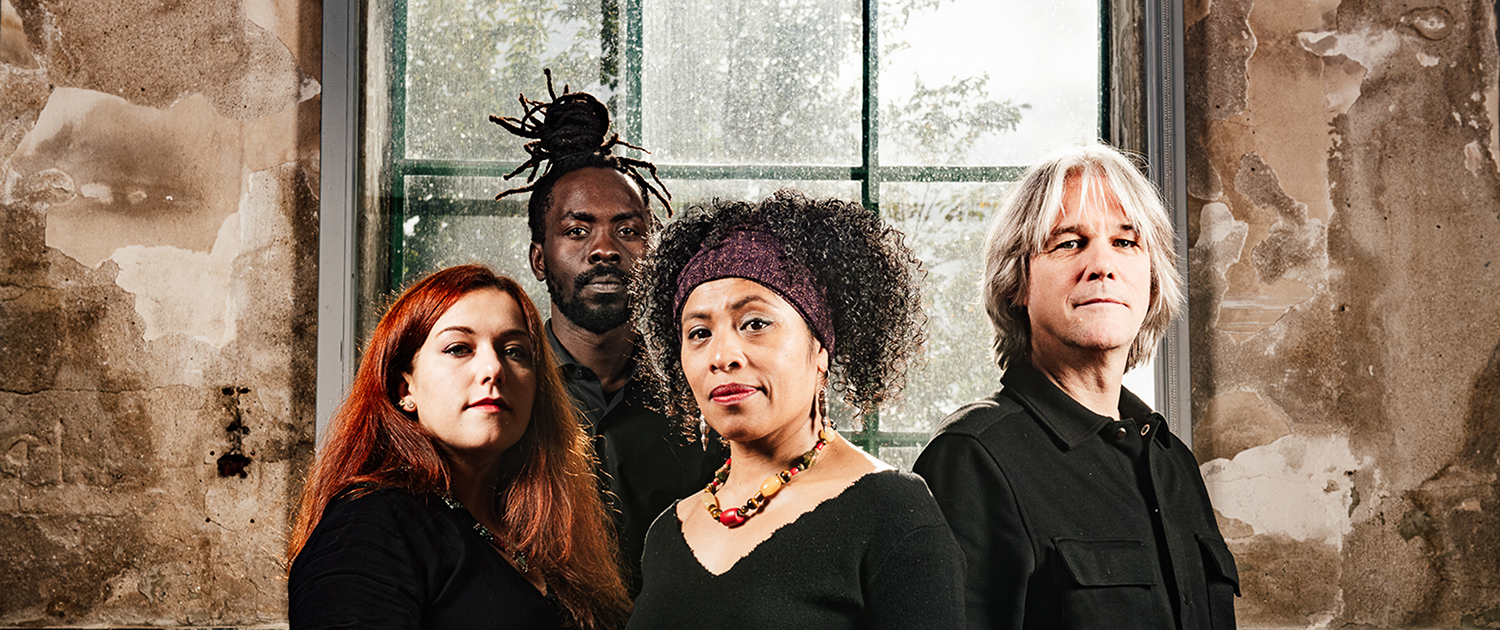 Maarten Mooijman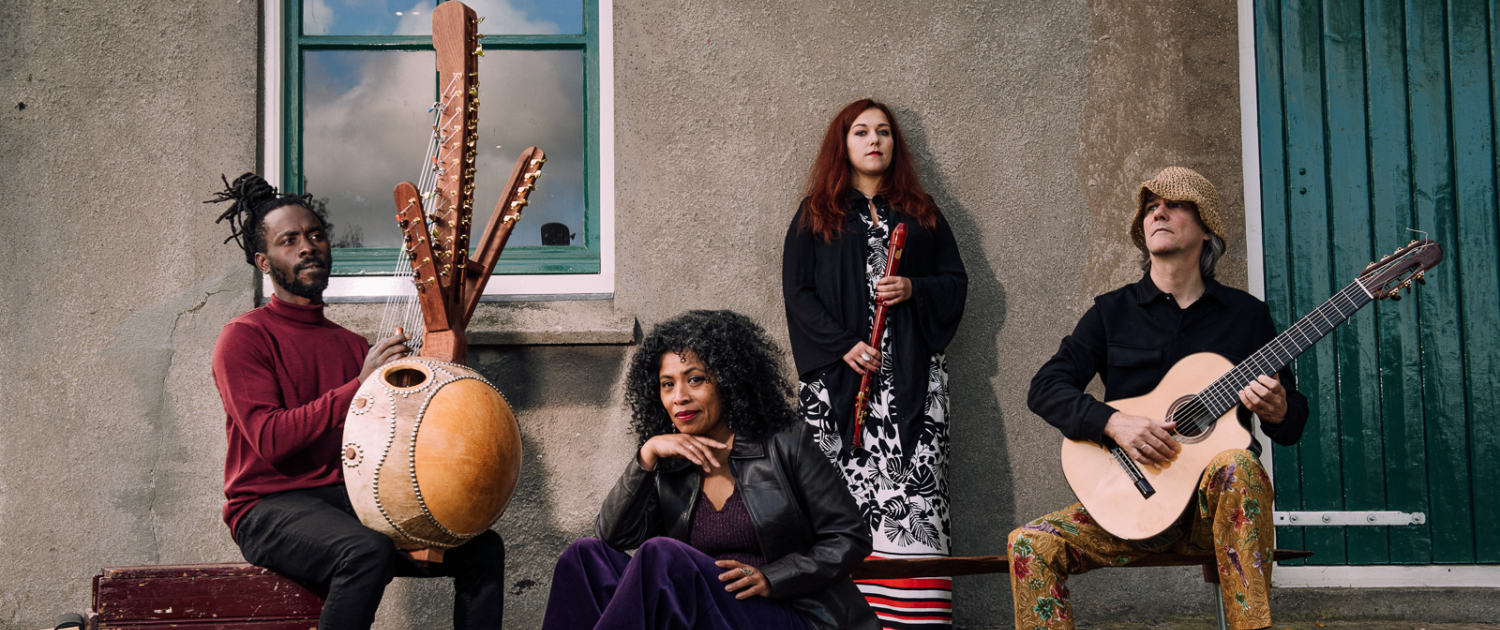 Maarten Mooijman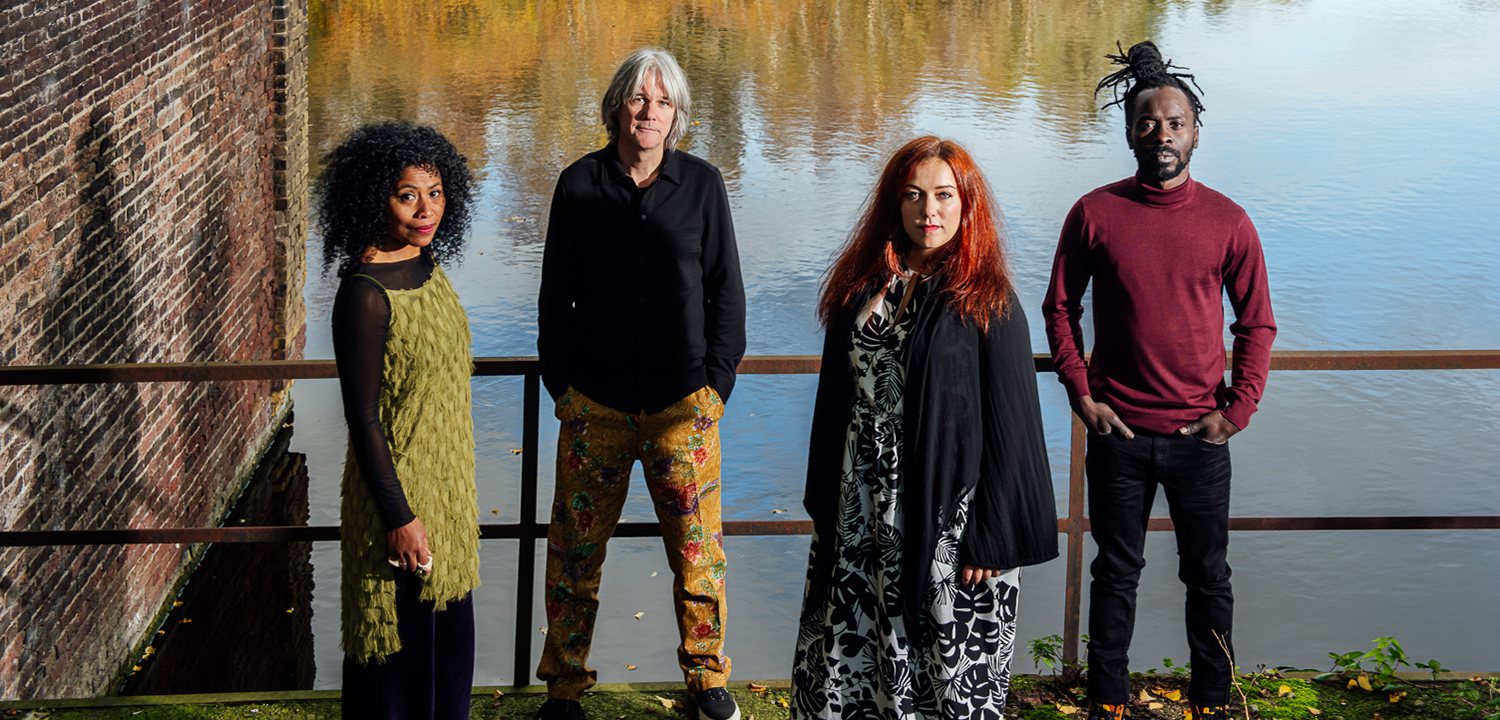 Maarten Mooijman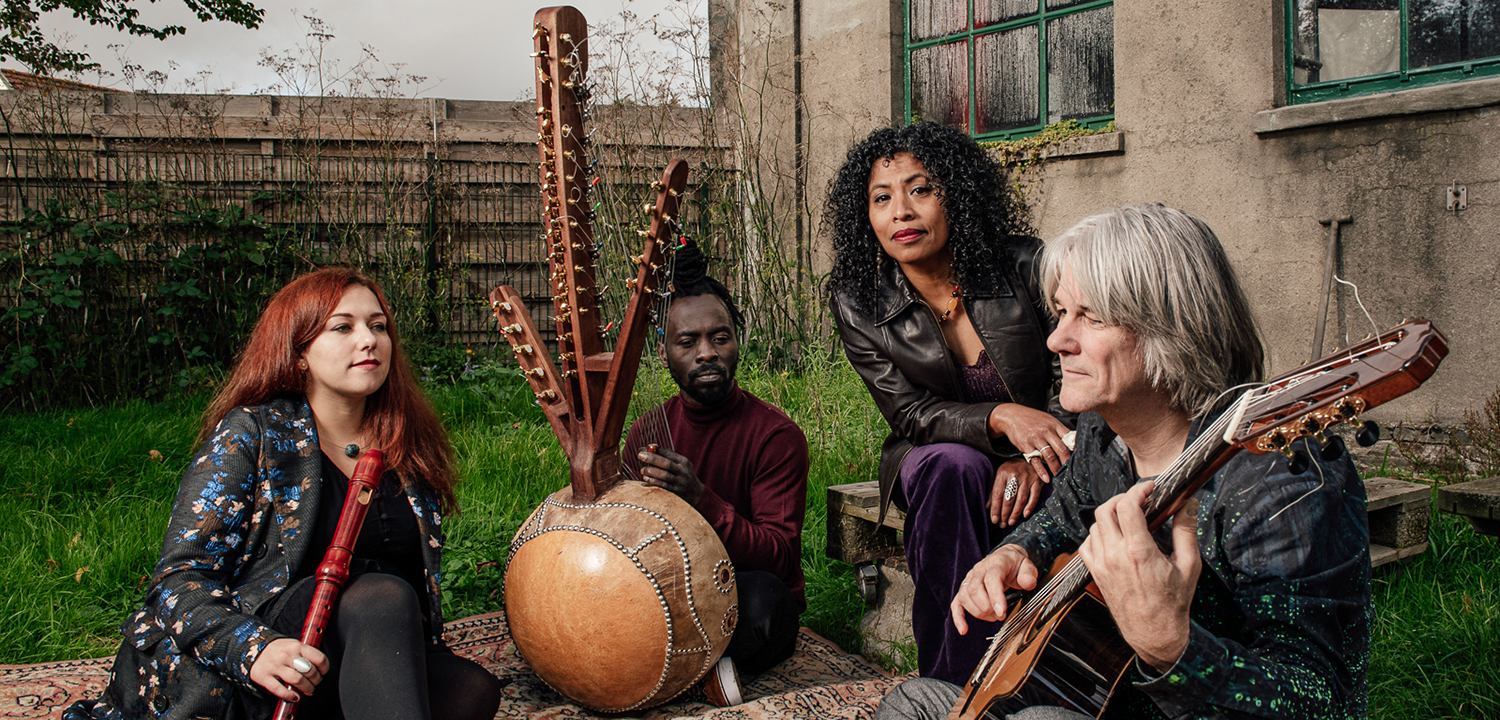 Maarten Mooijman
Storyteller is a story in colours and sounds, a story of a journey full of unexpected encounters. BOI AKIH effortlessly weaves modern jazz and improvised music with folk traditions from all over the world, creating a unique sound that is unconventional, yet totally recognisable and accessible. Acoustic sounds and electronic soundscapes merge with the versatile, warm voice of Monica Akihary, who sings in both English and Haruku, the language of her father's island. In Storyteller Akihary and guitarist and composer Niels Brouwer, who form BOI AKIH, are joined by recorder player Dodó Kis and kora player Sekou Dioubate. Together, these four evoke a world where boundaries dissolve and the distances between places, time and traditions don't seem to exist.
For Storyteller Brouwer and kora player Zoumana Diarra developed a striking and unique kora. With an ingenious extension they rendered the originally diatonic instrument suitable for Boi Akih's eclectic pieces. But in July of this year, in the middle of preparations for the first Storyteller concert, BOI AKIH's musical soulmate and dear friend died.
Storyteller could only continue after BOI AKIH found in Sekou Dioubate a kora player who, like 'Zou', combines a thorough knowledge of the West African musical tradition with an inquiring mind and the desire to integrate various musical influences into his playing. With the same musical curiosity, recorder player Dodó Kis moves nomadically between styles and traditions, from improvised to early music and Hungarian folk music. These two young musicians give BOI AKIH a whole new character with their musical energy and ideas.
Monica Akihary vocals,bass kalimba
Niels Brouwer acoustic nylon seven string guitar, harp guitar
Sekou Dioubate 35 string kora
Dodó Kis soprano,alto, tenor and paetzold bass recorder
special quests
Vernon Chatlein percussion and vocals
Nippy Noya percussion
"Storyteller is a wonderfully resonant blend of cultures and textures which hails traditions and innovations alike. Akihary and Brouwer have always shown deep respect for tradition but know, too, that without evolution there is stagnation." All About Jazz feb 2021
"..balance, daring, new musical insights and an intriguing mix of composed and, especially, improvised music." JazzNu  jan 2021
"Storyteller" is another great album from Boi Akih, and if you get the opportunity to hear the two, three or the whole "hurven" (band) live nearby, sometime after corona has left us, then you should grab the chance. I can guarantee you a delightful concert." Salt Peanuts dec 2020
Guitarist, composer Niels Brouwer and vocalist Monica Akihary are the core of BOI AKIH, which began in 1997. The duo has developed a distinctive repertoire for the ensemble, one in which cultural roots – musical traditions from the Moluccas (Melanesia/Oceania), Sunda and Bali, Dutch (European) jazz and improvised music, classical Indian music and traditional African music – form the basis for composition, improvisation and text. BOI AKIH has grown into an ensemble with a striking sound and its very own unmistakable musical idiom.
The search for its 'own' roots has led to BOI AKIH's unique sound. Sound exploration, compositional forms, improvisation and performance have been essential facets from the very beginning. The development of Monica Akihary's and Niels Brouwer's distinctive vocal and guitar styles have given sounds and elements from various musical traditions a new meaning within the national an international music world.
In 1998 the linguistic community hailed Brouwers and Akihary's texts as a phenomenon. While Boi Akih's music subtly refers to Moluccan roots, it is above all through language that Akihary honours her heritage. She writes and sings in her father's native language, regarded as moribund by the scientific world. Since 1998 Brouwer and Akihary have been working with Dutch (University Leiden) and Australian (Monash University) linguists who study Haruku. With their help and support, Boi Akih not only keeps the tradition alive, but also employs the language in its most authentic form, poetic self-expression.
The French press, reviewing the CD Uwa I, wrote, ' The combination of European, Indian and Indonesian cultures on the one hand with jazz on the other, gives BOI AKIH a sound and colour unique in the current musical landscape.' The German press is also full of praise for the innovations: 'four musical world views that groove convincingly, but also a new concept of cultural symbiosis through improvisation.' No surprise then that in France Uwa I was chosen as the year's best world jazz CD.