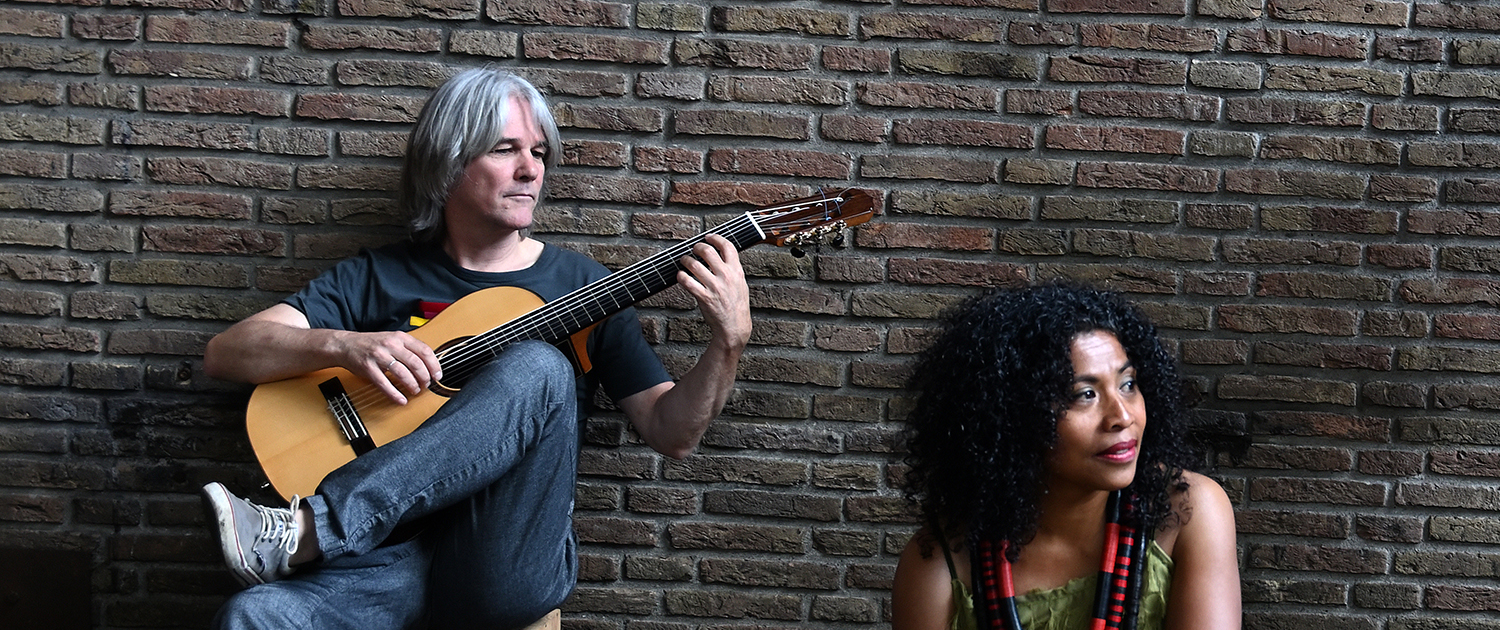 BOI AKIH
the voice is a beautiful instrument and the guitar has a beautiful voice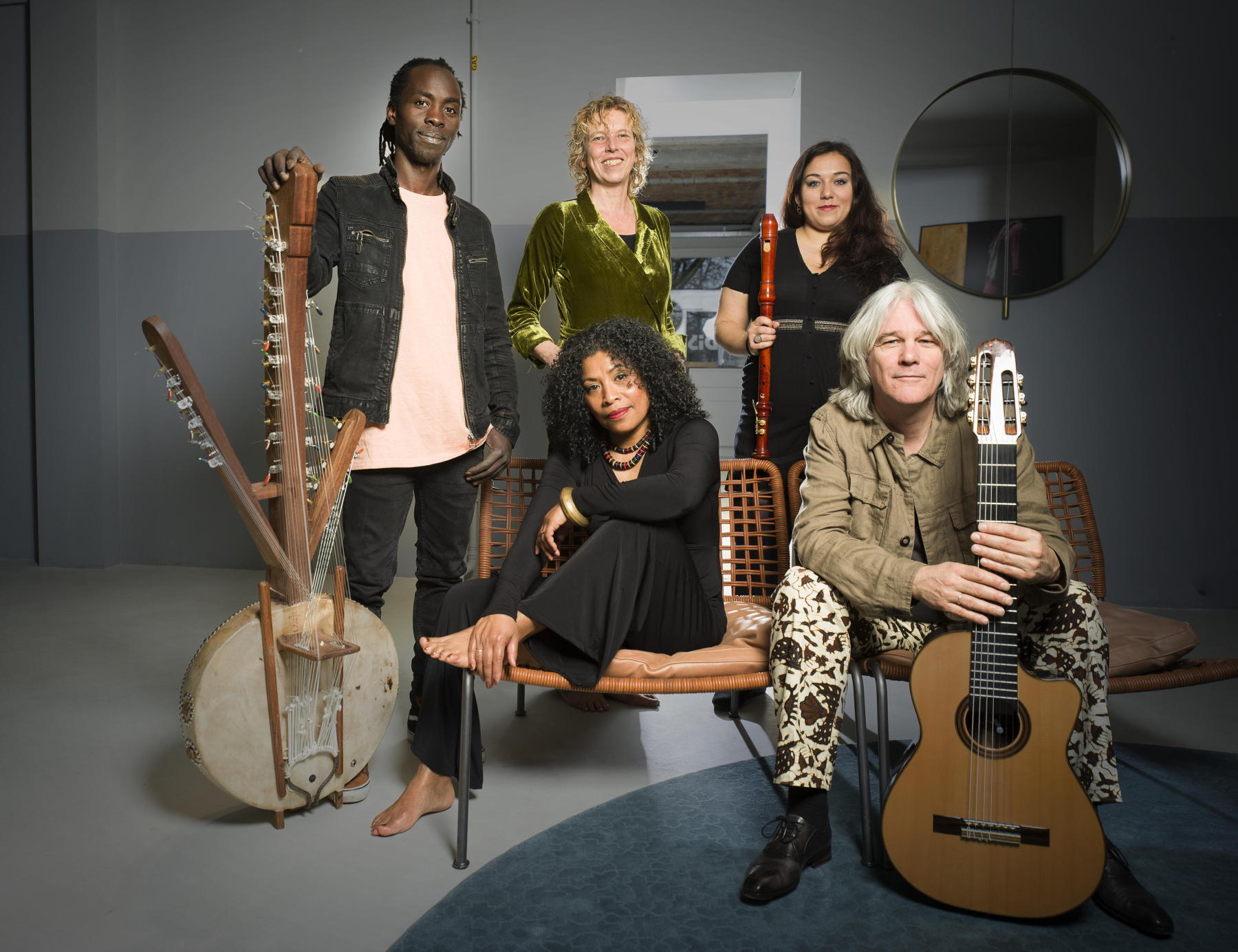 Merlijn Doomernik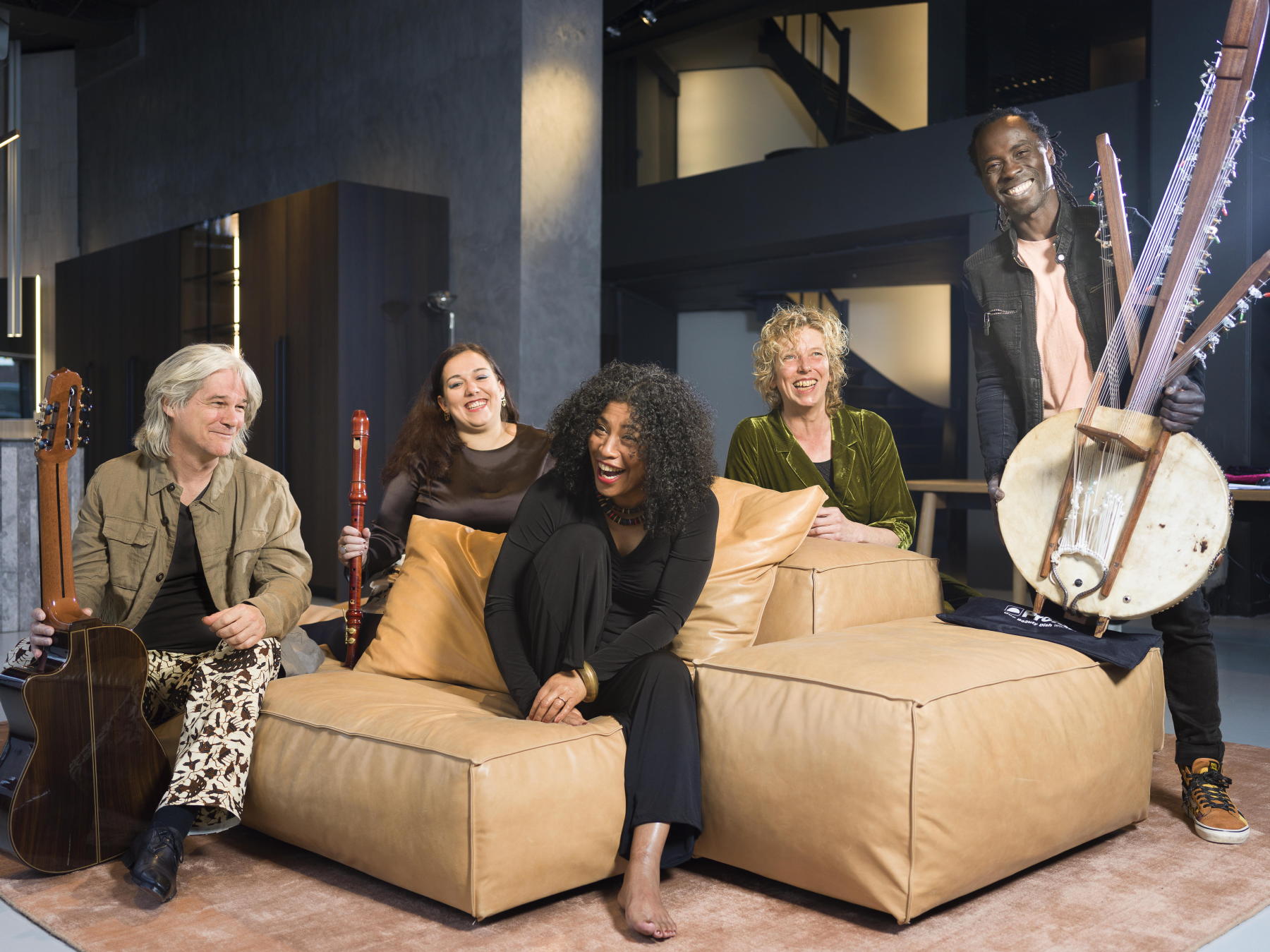 Merlijn Doomernik
𝘍𝘳𝘰𝘮 𝘢𝘯𝘥 𝘛𝘰 𝘐𝘯𝘧𝘪𝘯𝘪𝘵𝘺 is a composition by Niels Brouwer, originally written in 2019 for the 70-piece bamboo flute orchestra Molucca Bamboowind Orchestra from Ambon City.
For the performance at the Orgelpark, Brouwer has written new arrangements for a unique line-up of organs, recorders, kora, guitar and voice.
In these new arrangements, Monica Akihary and Niels Brouwer, who together form Boi Akih, play together with Hungarian recorder player Dodó Kis, kora player Sekou Dioubate from Guinea and pianist Nora Mulder.
𝘍𝘳𝘰𝘮 𝘢𝘯𝘥 𝘛𝘰 𝘐𝘯𝘧𝘪𝘯𝘪𝘵𝘺 comprises four movements: The Sea, Dryland, The City and Joy. Pieces originally composed for the bamboo orchestra – from piccolo to bass bamboo flute – are now performed by Nora Mulder on a variety of organs, including the Utopa Baroque organ and the Sauer organ. The arrangements make optimal use of the Orgelpark's wide range of organs. Together, the musicians explore all sound possibilities, leaving plenty of room for improvisation.
Monica Akihary, voice, bass kalimba, live sequencer
Niels Brouwer, guitars
Sekou Dioubate,  35-string kora, slitdrum
Dodó kis , soprano, alto, tenor and great bass recorder
Nora Mulder, organs
Matthieu Landweer
Matthieu Landweer
Matthieu Landweer
Händel's Messiah
An innovative, swinging and up-to-date performance of the Messiah!
This performance of Georg Friedrich Händel's famous oratorio from 1741 is totally non-conformist but shows great respect for the original composition and is entirely in accordance with Händel's own working methods. With an ensemble and sound presentation in mind, this versatile baroque composer was inspired by the craftsmanship and expression of the soloists. He often rewrote his own works if the performance called for it, and he was open to change, new ideas and styles.
BOI AKIH performs a completely unique version of this masterpiece, with their personal musical idiom and an unusual line-up of guitar, viola, kora and vocals. The idiosyncratic combination of stringed instruments forms a wonderful entity. Over this Monica Akihary's flexible and warm voice infuses the classical lyrics with new eloquence.
Monica Akihary – vocals
Niels Brouwer – 7 string guitar
Sekou Dioubate – kora
Saskia Meijs – viola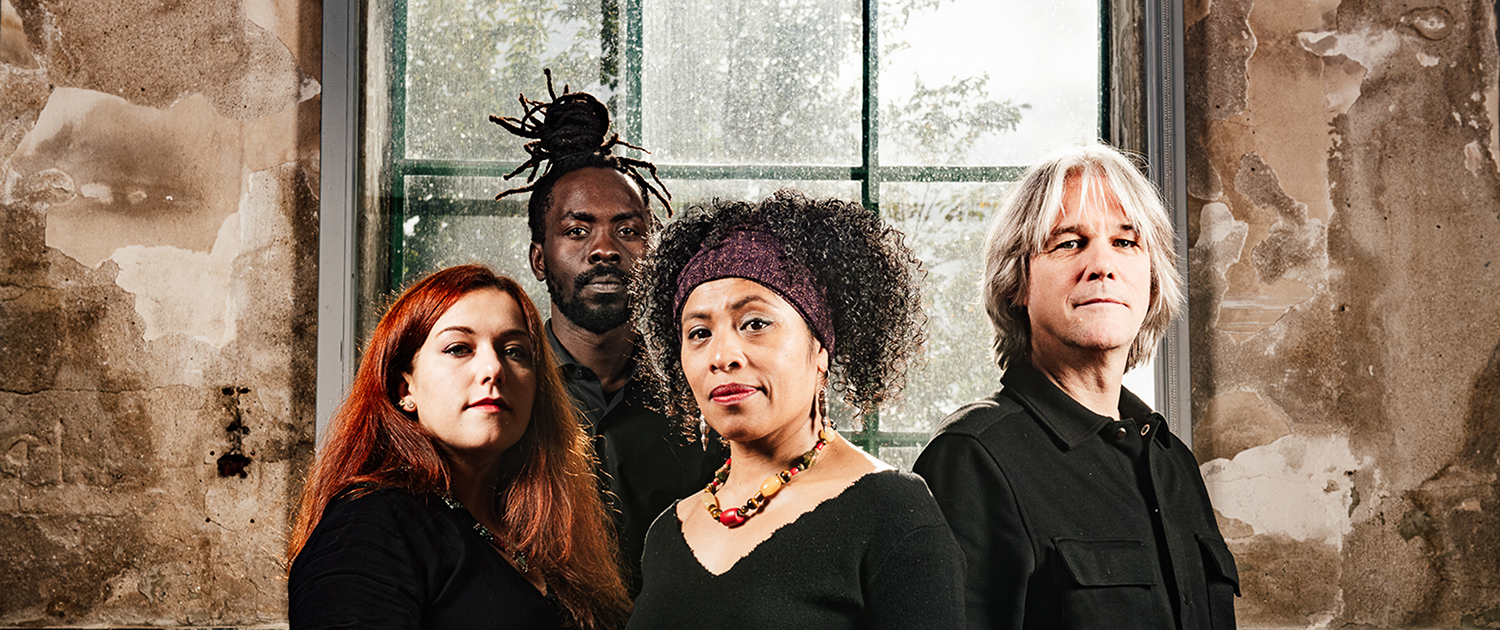 Maarten Mooijman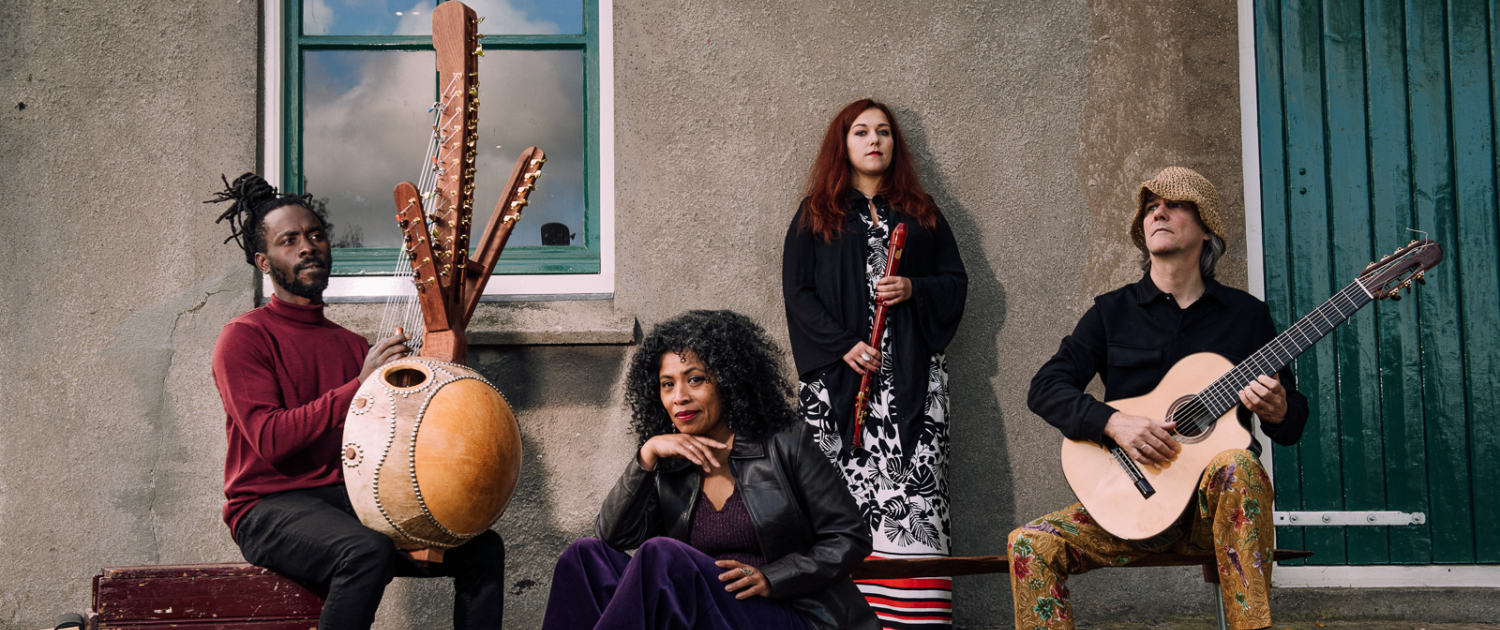 Maarten Mooijman
Storyteller is a story in colours and sounds, a story of a journey full of unexpected encounters. BOI AKIH effortlessly weaves modern jazz and improvised music with folk traditions from all over the world, creating a unique sound that is unconventional, yet totally recognisable and accessible. Acoustic sounds and electronic soundscapes merge with the versatile, warm voice of Monica Akihary, who sings in both English and Haruku, the language of her father's island. In Storyteller Akihary and guitarist and composer Niels Brouwer, who form BOI AKIH, are joined by recorder player Dodó Kis and kora player Sekou Dioubate. Together, these four evoke a world where boundaries dissolve and the distances between places, time and traditions don't seem to exist.
For Storyteller Brouwer and kora player Zoumana Diarra developed a striking and unique kora. With an ingenious extension they rendered the originally diatonic instrument suitable for Boi Akih's eclectic pieces. But in July of this year, in the middle of preparations for the first Storyteller concert, BOI AKIH's musical soulmate and dear friend died.
Storyteller could only continue after BOI AKIH found in Sekou Dioubate a kora player who, like 'Zou', combines a thorough knowledge of the West African musical tradition with an inquiring mind and the desire to integrate various musical influences into his playing. With the same musical curiosity, recorder player Dodó Kis moves nomadically between styles and traditions, from improvised to early music and Hungarian folk music. These two young musicians give BOI AKIH a whole new character with their musical energy and ideas.
Monica Akihary vocals,bass kalimba
Niels Brouwer acoustic nylon seven string guitar, harp guitar
Sekou Dioubate 35 string kora
Dodó Kis soprano,alto, tenor and paetzold bass recorder
Special quests:
Vernon Chatlein percussion and vocals
Nippy Noya percussion
The press on Storyteller
"Storyteller is a wonderfully resonant blend of cultures and textures which hails traditions and innovations alike. Akihary and Brouwer have always shown deep respect for tradition but know, too, that without evolution there is stagnation."
All About Jazz feb 2021
"..balance, daring, new musical insights and an intriguing mix of composed and, especially, improvised music."
JazzNu  jan 2021
"Storyteller" is another great album from Boi Akih, and if you get the opportunity to hear the two, three or the whole "hurven" (band) live nearby, sometime after corona has left us, then you should grab the chance. I can guarantee you a delightful concert."
Salt Peanuts dec 2020
Guitarist and composer Niels Brouwer and vocalist and lyricist Monica Akihary have formed a duo under the name of BOI AKIH since 1997. BOI AKIH forms the solid and inseparable core of collaborations with a wide range of musicians and poets.
For more than twenty years, boundless curiosity has driven BOI AKIH to ever new experiments and discoveries. As a result they are now at home in musical traditions from all corners of the world – from modern jazz to classical Indian music and from Melanesian, African and European folk to improvised music. For the musicians, all these different traditions and influences are not the final destination, but an inspiration and a starting point for musical development. They can be heard in the colour and texture of their music, in complex compositions and free improvisation, in their use of voice and playing techniques, in daring line-ups and also in the unusual collection of instruments they use – often self-built and tailored to their own individual musical ideas.
BOI AKIH's unique sound emerges in the constant interaction between the musicians and the sources they draw from. This sound, at once unconventional and accessible, always surprisingly new and yet completely recognizable, mixes acoustic sounds and electronic soundscapes with the versatile, warm voice of Monica Akihary, who sometimes sings in English and sometimes in Haruku, the language of her father's island.
In BOI AKIH's musical projects, their deep, personal musical explorations result in a harmonious blending of seemingly incompatible sounds, rhythms and tonalities. Examples include the symbiosis of European, Indian and Indonesian traditions in Uwa I (2004) and eclectic musical reinterpretations of Jimi Hendrix, Neil Young and Joni Mitchell (Circles in a Square Society 2012). In the award-winning Controlling the Swing (premiere Holland Festival 2017), Boi Akih brought together a whole range of musical extremes in one dazzling composition. BOI AKIH's latest project, Storyteller (2020), further dissolves the boundaries: between old and modern, between music, story and poetry, and between east, west, north and south.
Concerts
BOI AKIH has worked with such musicians as Ernst Reijseger (cello), Eric Calmes (bass), Ernst Glerum (bass), Sean Bergin (sax), Sandip Bhattacharya (tabla), I Made Subandi (gamelan), Onno Govaert (drums), Tobias Klein (reeds) Ryoko Imai (marimba, perc.) and has toured in Europe, South Africa, India, Indonesia, Malaysia, Mexico, China, Canada, Brazil, South-Korea.
Club appearances include Bimhuis (Amsterdam), Sunset (Paris), Unterfahrt (Munich), Schloss Elmau, Das Konzerthaus (Vienna), Theater Musee Quai de Branly , Salle Gaveau (Paris), Indian Habitat Centre (New Delhi), Blue Frog (Mumbai).
The group has played at such festivals as North Sea Jazz, Berlin Jazzfest, Elbjazz (G), Jazzkaar (EST), Awesome Africa Festival (SA), European Jazz Nights Oslo (N), Bray Jazz (IRL), Fest.GlattundVerkehrt (A), Festival Radio France et Montpelier, Jazz D'OR, Jazz Sous Les Pommiers, Jazz Grenoble, Djazz Nevers (F) SunFest, TD Ottawa Jazz Fest, TD Vancouver Jazz Fest (CA,) World Expo Shanghai , Guangzhou Jazz Festival (PRC), EFG London Jazz Fest (UK), Vossa Jazz (N), JAKJazz ( RI), Penang Island Jazz Festival (MY) , Festival FFM Sines (Portugal), Holland Festival 2017, Jarasum Intern. Jazz Festival 2017 , Korean Music Festival of Bukchon, Jeonju Intern. SORI Festivan 2020 (South-Korea), LIFE Salihara Jakarta 2019 (RI) and worked together with Bobby McFerrin & Philip Glass.
BOI AKIH has also appeared on diverse radio and TV programs such as NTR Podium Witteman , VPRO – Reiziger in Muziek, Vrije Geluiden, France2 – Des mots de minuit, Radio France- Equinox, BBC – Charlie Gillet Show.