https://www.boiakih.com/wordpress/wp-content/uploads/boiakih_logo.png
0
0
boiakih
https://www.boiakih.com/wordpress/wp-content/uploads/boiakih_logo.png
boiakih
2020-05-18 21:55:51
2020-06-10 14:40:44
Live stream concerts from Concertgemaal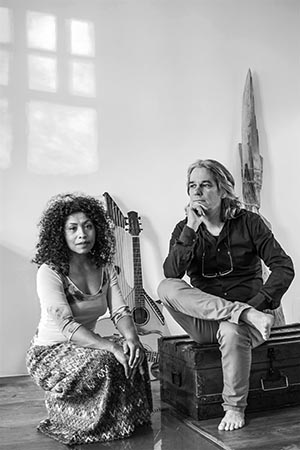 Boi Akih will have a premiere at the 70th anniversary of Holland Festival. We will present "Controlling the Swing" on June 16th at Paradiso Amsterdam. Especially for the Holland Festival poet and peace-activist Rudi Fofid from Ambon-City will write poems for the new compositions of Niels. The current quartet of Boi Akih with Ryoko Imai (marimba, percussion) and Tobias Klein (bass clarinet , contrabass clarinet) will play with two wonderful musicians from Indonesia. Gamelan player I Made Subandi (Gianyar, Bali), a real virtuoso on the Balinese gender. He joined Boi Akih 's Philosophy of Love in 2010, and Indra Menus of Jogja Noise Bombing (Jogyakarta, Jawa)
Controlling the Swing – a composition about love-hate and how they relate. Love and hate are ultimately two extremes of the same phenomenon so they can be transformed into each other. Hate can only be concurred by love.
Controlling the Swing begins as a confrontation between traditional and contemporary music, acoustic sounds and electronic noise, wood and metal, timeless wide horizons and nervous improvisations, but in the course of the composition the styles, sounds and moods that at first seemed incompatible, melt into one. In love and in hate energy is compressed and seeks an outlet. Controlling the Swing will reflect that energy with a lot of changes in dynamic, tempo and rhythm.
Holland Festival A Night in Indonesia
16-06-2017 20:15 Paradiso Amsterdam
tickets
/
https://www.boiakih.com/wordpress/wp-content/uploads/boiakih_logo.png
0
0
boiakih
https://www.boiakih.com/wordpress/wp-content/uploads/boiakih_logo.png
boiakih
2017-02-09 22:17:29
2020-06-10 21:37:36
Boi Akih @ Holland Festival 2017
Jazznytt #241
review by Bjarne Soeloft November 2016
The visit in Oslo of the Dutch duo Boi Akih during European Jazz Nights 2009, and their fifth excellent Yalelol (reviewed in Jazznytt #2-2008), arouse warm memories. The duo, consisting of the married couple Niels Brouwer on several acoustic guitars and the Indonesian vocalist Monica Akihary, constitutes the basis in varying constellations from disc to disc. On this new Liquid Songs they play together with the German Tobias Klein on his flexible bass clarinet and the dramatically outstanding contrabass clarinet, and also the Japanese Ryoko Imai with her poetic, percussive eruptives and atmospheric marimba playing, as the most organically attuned fellow musicians on the Boi Akih-records.
The lyrics are all written by Akihary, and mainly in the language of her family, haruku. Brouwer is both the composer and group leader with his distinct, comprehensive guitar playing. The music uniquely integrates elements from world music, contemporary music, jazz and improvisation. The introductory track, "Liquid Songs", lasts for fifteen minutes and expresses much of the musical language of the group, ranging from quiet acoustically produced sound landscapes – crawling, floating, pulsating – over to Akihary's textual homage to life, which certainly also is let loose in a unique collective improvisation. In addition comes the melodious, tender ballad sung in English, "Little Girl", as well as songs about both spiritual and erotic love, respectively "Ale Mei Wa'ati" and "Japala'a". And lastly, in the wordless "A Stranger Everywhere", Akihary succeeds in creating – with her natural resonant contralto voice – a profound sense of existential gratitude.
---
Review Rui Eduardo Paes 4Jan 2017 ****
http://jazz.pt/ponto-escuta/2017/01/04/boi-akih-liquid-songs-trytone/
Jazz.pt
---
review by Jan Granlie 14 nov 2016
salt-peanuts.eu/record/boi-akih
Saltpeanuts.eu
---
review by Mattie Poels 28 nov 2016 'Transparent fluidity in 'Liquid Songs'
www.musicframes.nl/2016/11/transparante-vloeibaarheid-in-liquid-songs
musicframes.nl
---
review by journalist Ton Maas ( NL)
mixedworldmusic.com/recensies/
mixedworldmusic.com
---
review journalist Pachi Tapiz (ES)
www.tomajazz.com/web/?p=27441
tomajazz.com
---
Concerto.at #nr.6 ****
review by Thomas Hein january 2017


/
https://www.boiakih.com/wordpress/wp-content/uploads/boiakih_logo.png
0
0
boiakih
https://www.boiakih.com/wordpress/wp-content/uploads/boiakih_logo.png
boiakih
2017-01-30 19:45:45
2020-05-19 10:09:12
some reviews Liquid Songs